Gastfreundschaft im Iran
Unsere mehrjährigen Erfahrungen beim Durchführen von Touren für Touristen aus verschiedenen Teilen der Welt belegen die Tatsache, dass die Touristen meinen, die iranische Gastfreundschaft ist eine einzigartige und unverkennbare Besonderheit.
Durch dieses charakteristische Merkmal der Iraner ist das Land anziehend für Touristen. Leider hat die Welt wegen der geringen Zahl an wahren Informationen über den Iran verschiedene Meinungen darüber, was dort wirklich passiert. Deshalb wollen wir eine wissenschaftliche Untersuchung durchführen , indem wir Touristen, die den Iran besuchen, nach ihrer Meinung zur iranischen Gastfreundschaft befragen.
Unsere Untersuchung basiert auf den Meinungen der Tourisetn, die unsere Agentur im Zentrum von Shiraz besuchen. Aber damit wir der ganzen Welt die iranische Gastfreundschaft nachweisen können, bitten wir dringend alle, die in Shiraz sind, uns bei diesem Projekt zu unterstützen, indem sie uns Hinweise geben. Sie können uns auch helfen, indem Sie das folgende Formular ausfüllen und mit Ihrem Foto versehen. Somit werden Sie in unsere Liste aufgenommen.
Vielen Dank im voraus für Ihre Bemühungen!
Christophe Jegu
Education : master degree Entrance : 05/06/04 Length : 30 days Occupation : Financial analyst Location : French Cities : Espahan, Qom, Yazd, Shiraz
Comments : Iran is famous for his glorious monuments, but also for the hospitality of his people. Those were the reasons why I came here, and was not disappointed at all. You will always find people ready to help, even taxi drivers... Here, you will understand what is to be a guest.
Nuria Gonzalez and Alcione Mora
Location : Spain Education : Master Science / PhD Entrance : 17 June 2004 Length : 28 days Occupation : PhD students Cities : Tehran, Qazvin, Masouleh, Bandar-e Anzali, Ardabil, Tabriz,
Shiraz, Yazd, Isfahan, Kashan, Qom
Comments : Iran is a very friendly country. There is always somebody available to help you if you have a problem, and the lack of knowledge of Farsi is not a barrier, because the people do their best in order to help you, without
expecting anything in exchange. They can expend much of their time with the only purpose of helping you. However, you have to be cautious about those people which can make a profit lying you, specially taxi drivers and some hotel owners. Prepare to enjoy an extremely safe country for the tourist, where every problem or doubt gets resolved
with the help of the population.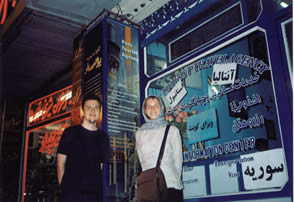 David & Aga
Education : M.A. Mathematics & Applied Linguistic Entrance : 30/06/04 Length : 20 days
Occupation : Students of Mathematics&Applied Linguistics Cities : Tabriz, Tehran, Isfahan, Kashan, Shiraz, Yazd, Mashhad Location : Spain & Poland
Comments : The best souvenirs that you can bring home from Iran are memories of people's hospitality and warmth. Several times per day any tourist can hear "Welcome to Iran". Moreover, you will be invited to a cup of tea at least by one hundred of Iranians. If you are lucky, you will be a visitor to somebody's house and will be given an opportunity to spend pleasant time with their family. For a European it's surprising, for an Iranian it seems to be natural and enjoyable. Thanks to such warm gestures and words, we forgot to miss our own countries! Motashakkeram!
Stein Morten Lund
Education : Master of business management Entrance : 6th July 2004 Length : 2 weeks
Occupation : Manager & Editor Cities : Tehran, Isfahan, Shiraz and rural areas Location : Norway
Comments : IRAN - THE COUNTRY OF HOSPITALITY.
I could not think of a better place in the world for travel explorations and unique adventures than in Iran. But first and foremost I will remember the hospitality of the people.
Based on my experiences during almost 20 years of traveling, I have never got a stronger feeling of being a guest in a country rather than a tourist. It made me feel so well meeting all the nice Iranian people both smiling and saying hello to me. All around in Iran I have been invited to private homes. The Iranians are really opened minded and have a good heart. Visiting nomadic tribes in the mountains will forever be an unforgettable adventure.
I would like to thank everyone in Iran who made my tour so successful. Especially I would like thank the nomadic tribes as the Bakhtiaris, Qashqais and Lor for showing their best hospitality. These people are really great. I hope they will stay strong in the future and manage to retain their unique lifestyle and culture.
Go to Iran and you will feel how to be a real guest! The more effort you make to know the Iranians, the richer your experience will be. From the bottom of my heart I will just say:
MY MEMORIES ABOUT THE GREAT PEOPLE IN IRAN WILL BURN AS AN INTERNAL FLAME IN MY HEART FOREVER.
Warmest greetings from a Norwegian Viking
Alain de Rotrou
Education = Engineer Entrance = July 1, 2004 Length = 1 month
Occupation = consulting management Cities = Tehran, Masouleh, Kashan, Isfahan, Shiraz,
Yazd, Mashhad location = France
Comments = How many times was I invited to share a lunch, a dinner, even more?
How many times were the taxi drivers happy to offer the drives?
Definitively , Iranian people are warm, friendly, so curious and open minded. Did I tell you all the laughs we had in
buses , in museums with them?
I will come back to Iran with my wife ASAP .
I made so many friends that If I could settle down in Iran
Martin Sikovc, Leon Andrejka, Matjaz Spruk
Entrance = 15.7.2004 Length = 20 days Occupation = students
Cities = Shiraz, Persepolis, Isfahan, Yazd, Teheran, Qazvin .... location = Slovenia
comments = We must say that the first thing that we were positively surprised about when we entered
the Iran was the Iranian hospitality. On every step you can meet a lot of people who are prepared to help
you. Moreover there are also very curious about that where you come from and it isn't a rare thing that
they invite you to their home for a dinner just to talk about your country and your culture. That is why we
are going to have very nice memory about Iran and their people.
Thank you for those 20 great days in Iran.
Martin, Leon and Matjaz
Jurgen and Sibylle
Education = University Entrance = 8 August 2004 Length = 16 days
Cities = Shiraz, Yazd, Isfahan, Tehran location = Austria
comments = Iran has proven to be a real pearl of the Middle East. Western tourists are still relatively rare and people are friendly and welcoming and treat the guest as a king wherever possible.
It appears to be strange that this country is on the same world as the overdeveloped tourist spots everywhere else.
Kimberly Wilson and Thomas Sennett
Education = Masters Library Science Entrance = September 23, 2004 Length = 20 days
Occupation = Network Administrator/ Network Engineer Cities = Tehran, Kerman, Yazd, Shiraz, Isfahan, Kashan location = United States
Comments = We had heard from other travelers about Iranian hospitality, but it is something that you have to experience for yourself. We are half way through our trip at this point and have been overwhelmed by the friendliness and graciousness of Iranians we have met. Of course, it is obvious we are foreigners, so many people have come up to us in the streets to practice their English or just welcome us. When we tell people we are from the United States, they are often surprised, but make sure that we understand that problems between governments are not problems between people and that we are quite welcome here. In fact, as there are so few Americans here people have been especially interested in meeting us. It's been an incredible experience so far.
Lisa and Ulrike Walzel
Education = university degree location = Germany Entrance = 18.09.2004 Length = 3 weeks Occupation = teacher and student Cities = Isfahan, Kashan, Shiraz, Kerman, Yazd
Comments = When we arrived in Teheran we did not really know how people would react to us - two women traveling on their own in Iran. At home we had heard some horror stories. But up to now we have just had good experiences. Everybody helps us in the street, everyone is extremely friendly. We were invited by a lot of people for a cup of tea or we talked for a while and they did all their best - arranging bus tickets, finding bakeries, haggling in the bazar...
Iran is definitely the land with the greatest hospitality. Thanks to everyone!
Anders Wahlgren
Entrance = 2004-09-30 Length = 16 days Cities = Shiraz location = Sweden
Comments = Under den korta tid jag varit har har jag mott en enastaende gastfrihet. Det borjade redan pa flyget ner dar de som satt bredvid mig pa flyget berattede om landet och aven lamnade tel nr. Jag har aven traffat och
atit lunch och middag med flera.a jag kommer hem kan jag rekommendera vanner att besoka landet.
Thank you in advance for your care and support!
Gerhard Zwettler
Entrance = 2 Oct 2004 Length = 15 days Occupation = communication manager cities = Tehran, Shiraz (Persepolis), Yazd, Isfahan Location = Austria
comments = I am very happy to be able to experience the Iranian hospitality. I have traveled the world, but never received such a warm welcome as in Iran. The Iranians go out of there way to help, to present you the Iranian culture, which is very rich, and the Iranian lifestyle. Please come and experience yourself this warmth and friendliness!